We're excited to announce the newest edition of Behold Your God, now available on the Positive Action website.
First released in 1980, Behold Your God has grown into one of our core Bible curricula for high schools. The study is an exploration of God's essence and character—an introduction to theology proper, the highest Truth we can find in the Word.
The Fourth Edition represents a complete revision. We preserved the original framework—so teachers familiar with this study should be able to present the content much like they always have. However, we have also...
Polished the core exposition
Streamlined the student exercises
Provided explanatory notes for early-level students not familiar with some passages
Explored challenging topics even further for advanced students
...and made a host of tiny improvements based on teacher feedback
Like our other secondary studies, Behold Your God comprises three components:
The

Teacher's Manual

, which contains lesson content, testing material, facsimiles of the student workbook pages, and all answer keys. Available in print and downloadable PDF.
The

Student Manual

, a workbook which contains student reading, exercises, lecture outlines, and extra activities. Available in print and as a digital PDF workbook.
The

Extra Resources

, an optional, downloadable packet containing editable versions of the testing material, editable lecture presentations, and more.
You can find a full feature list and samples for every component on the Behold Your God product page.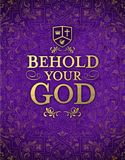 Behold Your God
Transitioning from the Previous Edition
Given the extent of the revisions and additions, the new edition will not match components from the previous edition. Previous edition components are no longer available for sale on the website.
If you have previously purchased a Teacher's Manual, please contact us for a special update offer. We can provide you a digital version free-of-charge and a new print version at a heavily reduced rate.
Copyright info
First edition by Frank Hamrick and Jeff Hedgepeth, published in 1980.
Fourth edition published 2016.
Revised and expanded by Jim Lord. Additional editing by C.J. Harris, Kristi Houser, Christa Lord, and Dennis Peterson.
Original artwork by Chris Ellison.
Managing Editor: C.J. Harris, Ph.D.
Designer: Shannon Brown
Published by Positive Action for Christ. All rights reserved.